Building on over a decade of collaboration at the intersection of technology and racial and economic justice, Movement Alliance Project (formerly Media Mobilizing Project) is proud to collaborate with MediaJustice on launching this database and website, as part of the #NoDigitalPrisons project.
Movement Alliance Project and MediaJustice support movements seeking pretrial decarceration. We believe information about how pretrial risk assessment tools (RATs) operate needs to be public knowledge. We are concerned about their impact on decarceration and approach the use of RATs with skepticism as viable solutions to pretrial incarceration.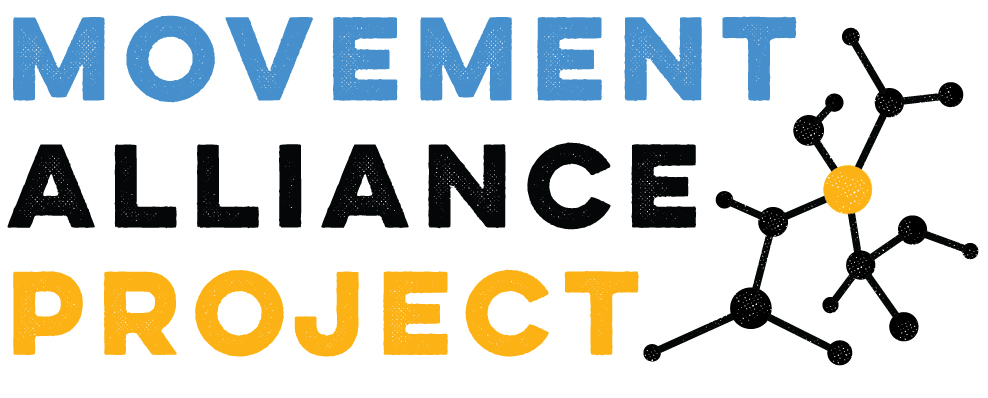 Movement Alliance Project (formerly Media Mobilizing Project) brings together justice, faith, worker, and community groups to win. We are a hub for supporting and developing organizing strategies that build local power for the multi-racial working class in Philadelphia, and we connect and share those lessons in Philly and local-to-locally with other communities. In our 15 year history we've led on campaigns for digital inclusion, corporate accountability, ending mass incarceration, education justice and expanding civic engagement.
By telling the untold stories of people standing up for what's right and building infrastructure to support emerging leaders and organizations, while driving research and crafting policies to address the pressing issues of our times, we are moving the Philadelphia community towards equity, justice and a better world for every one of us.

MediaJustice (formerly Center for Media Justice) fights for the media and technology rights of people of color and a future where everyone is connected, represented, and free. Home of the MediaJustice Network, MediaJustice is winning campaigns for racial, economic, and gender equity in a digital age.

"Media justice" exists when we are all connected, represented and free; when fundamental communication rights are widely experienced by everyone, regardless of social power and position. In the 21st century, universal access to media & technology, democratic media ownership, and meaningful, accurate representation in news & popular culture will drive a new reality of racial, economic and gender justice.

Acknowledgements
Special thanks to the many amazing people who helped make this website possible! We are extremely grateful to the hard work of Di Luong for kicking off and coordinating the research and foundations of this project; Adesh Dasani, Allison Smealie, and Puck Lo for their incredible research; Alex Shalom for in-depth information on New Jersey; Community Justice Exchange for their all of their feedback and guidance; Logan Koepke for feedback and suggestions; Leslie Paluch for in-depth comments; Stephanie Teeple for guidance on statistics; and Maddie Taterka for thorough editing.